How To Set Up A Serviced Office
We've written before about knowing when it's time to move your business into a dedicated office space, but that's really only the start of the story. Deciding you need a serviced office and finding the right space is one thing, setting that office up in a way which will maximise the positive impact for your business is another.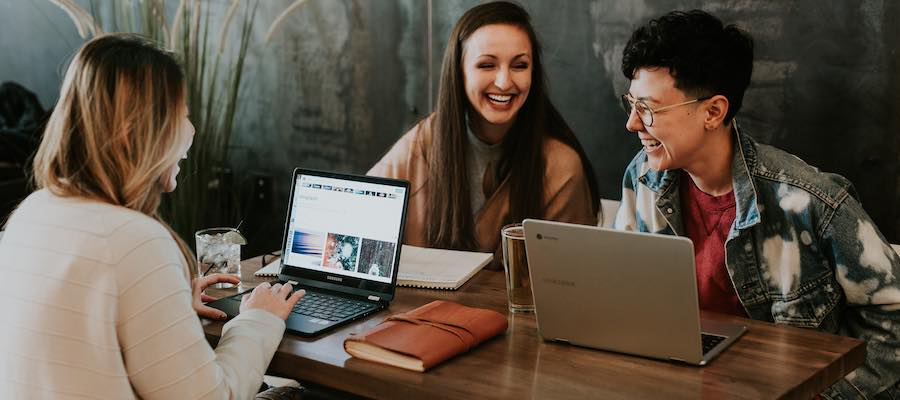 The Importance Of Office Design
In these days of hybrid working, the design of your office can be the difference between employees choosing to spend time in the office as opposed to working remotely the majority of the time. An office space that facilitates collaboration and encourages productivity is going to help attract and retain staff and overcome resistance to working in the office.
Start With Assessing What You Need
It's important to understand why you need a new office and what it needs to do that your current set up doesn't do. Perhaps you need more space for an expanding workforce or a space that is more flexible for new ways of working. Bear that criterion in mind when you are narrowing down your options and viewing potential properties.
Does your team or your operation have any specific requirements, such as specific spaces for packing orders, or collaboration areas or quiet zones for confidential conversations. And do you have any accessibility needs?
You also need to understand the latest regulations for workplaces such as the minimum space per person and decide how much space you need in total.
In a serviced office you may not have total control over the layout of your space, so it's important to choose an office that already ticks all or at least most of the items on your wish list.
Office Environment
Your employees, if they work full time, are going to be spending an average of more than 37 hours per week in the office you set up and there are a number of reasons why you should make every effort to ensure the environment is as efficient, pleasant and versatile as possible.
The first of these is simply the duty of care which you have to your employees, which places a moral imperative on providing a working environment which promotes mental and physical health and well-being. The second is slightly less altruistic but none the less true – employees who enjoy their working environment are bound to be more productive. Research carried out by experts from the University of Oxford, Erasmus University Rotterdam and Massachusetts Institute of Technology found that employees who are happy in the workplace are 13% more productive than those who aren't. Interestingly, the more productive workers weren't spending more time in the office, they were just getting more done while they were there.
While there are many factors, such as workplace culture and the nature of the work being done, which might feed into levels of worker happiness, the environment in which the work is carried out is bound to be one of them, and that's why setting your office up correctly is a top priority.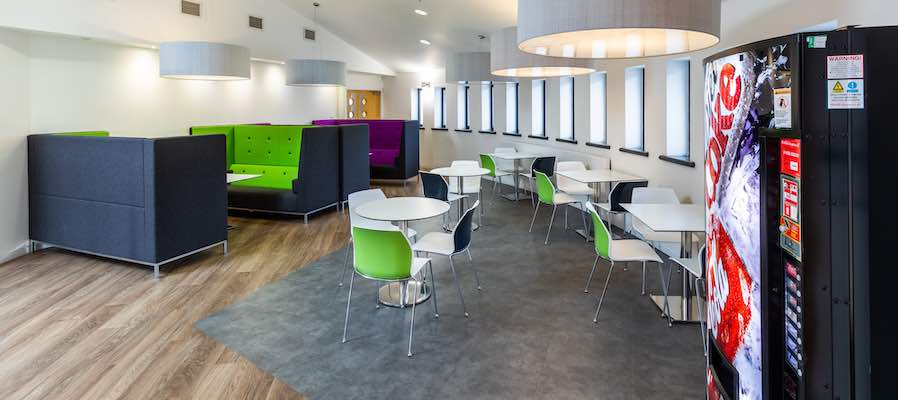 Office Layout
The layout you opt for will be decided, to an extent, by the size of the space itself and the number of employees you have. Within these parameters, however, you still have a degree of flexibility, and the ability to base the layout around factors such as any departmental hierarchy or structure and even more prosaic issues like the pieces of office equipment (printer, filing cabinets etc.) which particular members of the team use the most often.
While a serviced office space will come with desks and chairs provided, you may still have the opportunity to experiment with the layout of these desks and chairs to create the kind of ambience and working environment you're looking for. The safest course of action is to sit down with a pen and paper and draw up a basic plan of the layout or layouts you're considering, as this will enable you to visualise how it will work and make adjustments before actually shifting the items around. The three basic overall options for an office layout are as follows:
Open plan – this involves a small number of large desk areas with chairs around the sides. It maximises the use of floor space while sacrificing the privacy of individual workers, making it the ideal solution for work which is mostly collaborative in nature.
Close plan – this creates the type of cubicle layout which probably springs to mind when picturing the modern office. Each worker has their own desk with partitioning around it, creating an individual space. Clearly, in a serviced office space the option of putting actual partitions up might not be practical, but the layout of single desks can be used to create individual working spaces which maximise the ability to concentrate on independent work. This does come, however, at the cost of a lack of collaboration and any 'social' aspect, as well as using the space in a way which means fewer chairs and desks will fit into the office.
Modular plan – this plan takes elements of both the close and open plan designs and is a popular option thanks to the flexibility it offers. By grouping desks in mixed groups – some single and some multiple - it's possible to create a combination of closed and open areas, creating an environment which enables both concentrated individual work and collaboration, as and when each is needed.
Meeting areas
In addition to desk layout, you'll probably need specific meeting and collaboration areas. Many serviced office providers will include use of meeting rooms and may also have communal areas suitable for more informal conversations. For example, at AEIP the Enterprise Centre has a meeting room and a relaxed seating area for use by all tenants and the James Gregory Centre also has a meeting room and a seating area.
Serviced Office Décor
When utilising serviced office space there's a chance that you won't be able to impose your own decorating ideas. More flexible landlords, however, particularly when dealing with longer term and more lucrative contracts, might be willing to let you stamp your own business 'personality' on the office you're working in. When this is the case, the décor of the office should reflect the business itself at the same time as creating a calm working environment.
While utilising the wider brand colours of your business will help to create an air of professionalism – particularly when potential clients visit your offices – using them throughout may be problematic if they are too bright and garish. Your branding may be lurid pink, for example, but having an entire office decorated in this kind of colour scheme would probably be too much for employees to cope with. In cases such as this the brand colours could be used for accent and emphasis against a backdrop which is more neutral, establishing your brand at the same time as creating a calm and relaxed atmosphere. Whatever you opt for, avoid mixing too many different colours and ask yourself what the psychological impact of the colours you choose is likely to be on a day to day basis.
Natural Light
The impact of plenty of natural light on employees is hard to overstate. A study by the Northwestern University in Chicago found that employees working in offices with windows not only received 173% more white light, which is the equivalent of natural light, they also managed to sleep for 46 minutes per night more than those workers in offices without windows.
Another study by HR advisory firm Future Workplace found that workers were impacted negatively by not having outdoor views and natural light – 47% said that the absence of windows made them feel tired or very tired. Finally, when thinking of the health and well-being of your employees, a study by Professor Alan Hedge, Department of Design and Environmental Analysis at Cornell University found that those employees working within 10 feet of a window enjoyed an 84% reduction in headaches, blurred vision and eyestrain. Taking all of this on board it's clear that maximising your employees' access to windows and natural light will play a huge role in making your office a healthy and happy workplace.
IT Infrastructure
Before you move into your new serviced office, it's important to have all your IT working as it should so that your team can start work straight away without having to deal with any annoying connectivity issues. Your landlord should provide you with an internet connection and phone line, but it's up to you to check before you commit that the connection is suitable for your type of work. For example, at AEIP we provide category 5e structured data cabling and a shared high-speed fibre connection in our serviced offices.
IT Equipment
As well as your internet connection, you'll want all your IT equipment and phones in place before you start work, and you should think carefully about where you locate any shared equipment such as printers or servers. They should be easily accessible to anyone who needs to use them, but not where they can cause an obstruction or disturb people with their noise.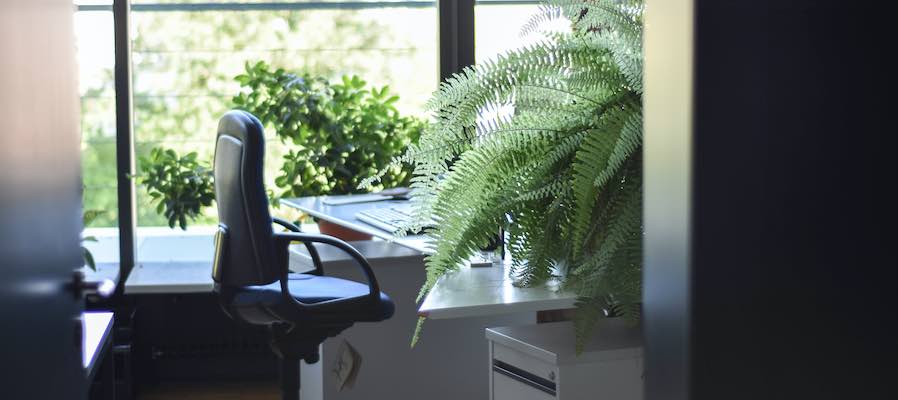 Pot Plants
Introducing some plant life to your office is a simple and affordable step that can make a big difference. It's clear that a previously bare office will be improved by the placement of a couple of thriving green plants, but numerous surveys have shown that the effect goes beyond the simply visual. According to the science on the matter having plants in the workplace was found to help reduce anxiety by 37%, depression by 58%, anger by 44% and fatigue by 38% in the respondents sampled. Filling previously bare environments with plant life was found to boost productivity by 15%, and workers with natural elements within the office space reported a 15% higher wellbeing score than those without.
Office Maintenance
Keeping your office clean, tidy and well maintained is vital to the wellbeing of your team and for presenting a professional image to the outside world. Your serviced office rent is likely to include cleaning and regular maintenance and repairs, so make sure you know the procedure for reporting any issues that need fixing. It is your responsibility to keep the space tidy and free from clutter which could cause trip or fire hazards. Set some ground rules at the start to ensure everyone plays their part in making it a pleasant place to work.
Sustainable Office Practices
Check that you understand the latest regulations concerning waste and recycling. Businesses have obligations to separate their waste and dispose of it correctly, avoiding landfill as much as possible. Check with your landlord if they have a contract with a waste collection company already or if that's something you need to set up.
It's also worth putting energy efficiency guidelines in place to reduce the environmental impact of your operations. Simple things like switching off lights and adjusting thermostats can make a difference, and using timers and sensors can also help avoid using energy when it's not needed.
Employee Engagement and Feedback
The best way to avoid gripes and complaints about your new office set-up is to involve your team right from the start. Early in the process ask for ideas and suggestions for the ideal layout and style of the office and keep the lines of communication open so that everyone understands how and why the decisions have been made. Once the move is complete, continue to collect feedback and implement any improvements that are feasible. By incorporating suggestions from the team you can develop a positive office culture where employees' views are respected and the team feels an element of pride in their workspace.
One of the main benefits of a serviced office is that you can just walk in and start work without any of the hard work involved in a bespoke office fit-out. However, it is still worth putting in the effort to set up your office space to create the office culture that suits your business and encourages your team to come to the office regularly to enjoy an environment that enables collaboration and productivity.