Why Find A Small Workshop To Rent In Aberdeen During Lockdown
Business owners have faced considerable challenges during the coronavirus pandemic. 'Unprecedented times' are two words commonly used. Although perhaps overused, they seem to be the only phrase that accurately describes the hurdles faced by the business community.

Work From Home
In March last year we saw Prime Minister Boris Johnson address the country. He told the public to work from home where necessary. Many have not returned to their offices which has affected other parts of the economy such as hospitality and retail. Coronavirus restrictions have temporarily closed other businesses as well. Gyms, restaurants, shops, cinemas and galleries are all sectors that have been forced to close their doors.
Online Sales Boom
Yet, the picture is not wholly bleak. The global pandemic has been an opportunity for growth and expansion for those agile and adaptable enough to take advantage.
Lockdown has prevented us from utilising entertainment outside of our homes. The flip-side of that is we have been purchasing items to decorate our homes and amuse ourselves in our downtime. Craft supplies, jigsaws and homeware have seen a sales bounce benefitting manufacturers in these areas.
Social media has been populated with photographs of new pets bought to keep housebound families company. This has led to an increase of pet accessories, food and other animal husbandry items in our online shopping carts. Businesses involved in this sector have seen a considerable sales boost.

Agile Business Model
The most obvious beneficiaries are manufacturers of products directly linked to slowing the spread of the virus. Masks, gloves, sanitisers and Perspex shields have been, and continue to be, in demand. A profitable market has emerged that would have seemed unthinkable only a year ago.
The agility in which these companies have risen to challenges is admirable and renting workshop facilities has been a readily available option to ramp up production while still following a flexible business model.
Click & Collect
It is not only what we have been purchasing that has changed but how we buy goods. Forbes cite the boom in click and collect. A shop front is an unnecessary expense and arranging for customers to collect their items directly from your workshop could be a viable alternative.
Home Delivery Boom
Personal safety measures to protect ourselves from the Coronavirus have understandably been an issue: the increase of online ordering for delivery to our homes has continued apace. There is not a greater illustration than the retail giant Amazon. Do you remember when they just sold books? The pandemic has seen an incredible twenty billion pounds spent on their website. In the UK alone that is thought to be one pound out of every twenty.
During lockdown, a typical bricks and mortar shop is redundant. It may be that our shopping habits remain the same after lockdown is lifted and we continue to buy online. Overheads are certainly lower when renting workshop space as opposed to a buying or leasing a traditional shop front. Utilities and staff costs are far greater in the latter scenario. When restrictions are reduced there may still be some consumer uncertainty so flexibility will be a key factor in business survival.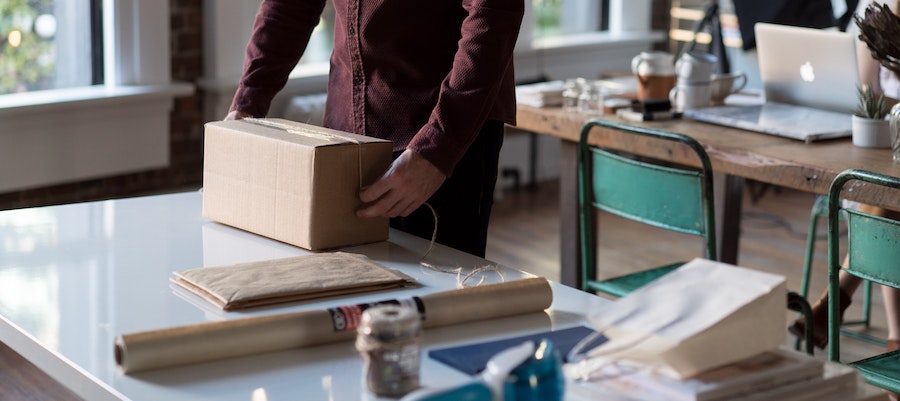 Start-Up Business Workshop Space
It is not only some companies that have risen to the challenges faced by the coronavirus. Last December there were approximately 9.9 million jobs furloughed in the UK as part of the Government's job retention scheme. Budding entrepreneurs have seized the opportunity to explore business ideas. Renting workshop space for producing or assembling goods is a low-risk option for a new enterprise. You can still be optimistic, yet exercise caution, while establishing if there is a long-term market for your product.
Renting small workshop space is a versatile solution for businesses in uncertain times and uncertainty may well be a feature of the economic landscape for some while yet; even as we emerge from restrictions. It offers greater flexibility: leases can be terminated or lengthened. Facilities vary in size and items can be moved between sites whilst overheads are kept as low as possible.
Industrial Units Aberdeen
Aberdeen Energy and Innovation Parks workshop units are ideally placed to offer you that flexibility as well as safety. Both the safety of equipment and renters are ensured with CCTV on site.
Although Covid restrictions will eventually be lifted, it is likely that we will be living with increased safety measures for some time. Enhanced cleaning regimes and social distancing signs are in place. On-site cafes can deliver to individual facilities and extensive car parking facilities reduce the need for travel on public transport.
Electric and hybrid vehicles are encouraged by the introduction of plentiful electric charging points. A further feature to enhance the park's green credentials are showers and bike lockers to promote cycling to the sites where possible. The exercise also enhances wellbeing and woodland walks are located within each Park.
Despite the green space locations, each park is located only a few minutes from the city centre of Aberdeen.

Why Rent Workshop Space In Aberdeen
Its position as oil and gas capital of Europe makes it economically resilient even in these turbulent times: providing buoyant markets for your goods and services. However, it recognises the need for a more sustainable future. Renewables is a growth sector with Aberdeen positioning itself to be an industry leader. Scotland was heralded to have the potential to become the 'Saudi Arabia of Renewables'  and still very much has the potential to make that a reality.
Another captive market is tourism: the area has a lot to offer with Royal Deeside only a short drive away. It is famed for its stunning scenery and destination hotels. Travelling a short distance north is the famous Whisky Trail and the challenging golf courses have always been a draw.
Tourism is certainly due to expand with a new harbour at Nigg Bay being developed to welcome cruise ships. Strong maritime links are just part of Aberdeen's superior infrastructure. Rail, air and road travel merge successfully and Aberdeen City Council are proactive at continually making improvements. The recent completion of the AWPR has been hailed a success and a consultation has recently opened to improve transport connectivity further .
You can see that Aberdeen is well placed for a successful economic recovery after the pandemic restrictions are lifted.
The workshop space we can offer you at Aberdeen Innovation and Energy Parks is secure and will always adhere to current coronavirus safety measures. We provide an economically viable, and flexible, solution to the challenges that your business faces. Both during lockdown and beyond.