7 Office Space Refurbishment Tips
Being confined to our homes during lockdown saw many of us remodelling our houses to give them a fresh new look. With more of us returning to the office as restrictions lift, perhaps it is time to give your workspace a makeover?
It can seem like a huge and costly job so where do you start? Here are our top 7 tips to help you refurbish your office.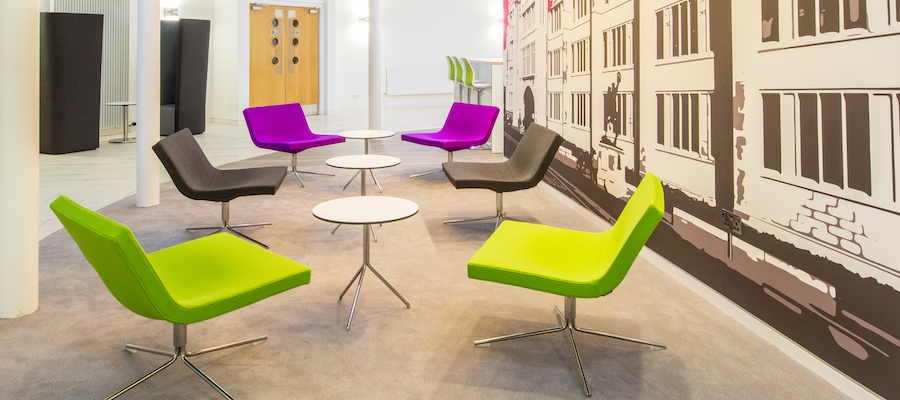 Office Use
Really think about what your office is used for. Do you bring potential clients to the premises? If that is the case, you need the space to reflect your company's brand and values. Consider lighting, colour scheme and graphics to create the image you are looking for. This is the part of the office that should be refreshed the most frequently to reflect your evolving ethos and keep up to date with current trends. The serviced offices of Aberdeen Energy and Innovation Parks are regularly redecorated to keep their décor looking fresh.
Tenants can decide to undertake their own refurbishments to allow their space to reflect their brand, personality and working patterns. Feature walls can add flare and individuality. A 12 foot 'thinking space' sofa was an innovative feature as part of a recent remodelling.
Offices that are leased under longer term contracts can be refurbished by tenants or by Aberdeen Energy and Innovation Parks. This collaborative approach removes the stress from the renovations, letting the site management take the strain. They can refurbish and fit out an office, allowing you to achieve the perfect work environment.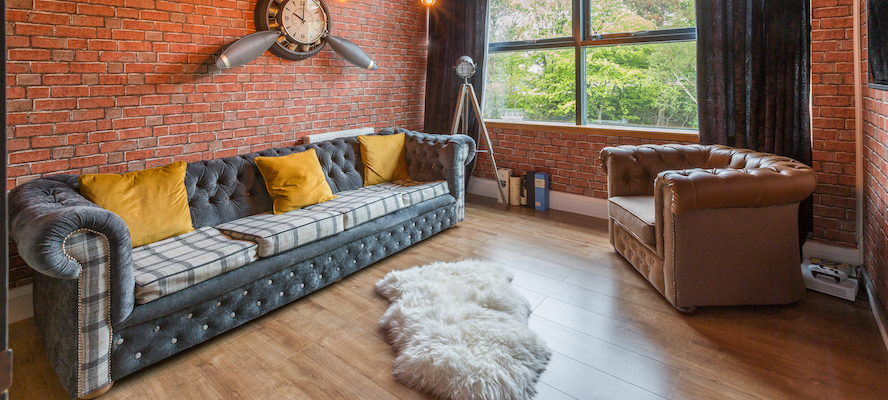 Furniture Style
Our furnished offices are bang up to date to reflect modern interior decoration but, more importantly, are ergonomically fit for purpose. The Health and Safety Executive have worrying statistics on the skeletal health of the UK's workers and this can be exacerbated by poor office furniture. Height adjustable desks are a more recent development in design resulting in a healthier spine for users.
More focused areas of the office can be highlighted by the type of furniture which is selected: quiet, private areas and more open, collaborative spaces can be demarked by differing types of tables and chairs. Privacy pods are proving popular and give your space a quirky, modern vibe. This is your opportunity to express your style and create a truly, impressive environment for associates and potential clients. Recently, an office at Aberdeen Energy and Innovation Parks used stunning glass statement pieces. The only boundaries are your imagination.
Worker Wellness
The air-purifying effect of indoor plants is well documented but the Japanese have learnt that simply looking at a desk plant can improve mental wellbeing. Looking at artwork also lowers the risk of depression and anxiety. In addition to looking gorgeous, introducing plants and art to your office space is a simple way of improving the wellness of your colleagues. An interesting environment is a more productive setting for work. Walls with texture can add a richer dimension to décor: this can be achieved by incorporating acoustic panelling, concrete and reclaimed wood.
The Health and Safety Executive's guidelines on office lighting are also worth a look. Lighting that is either too bright or too dim can cause vision problems for colleagues. However, to reduce your workspace's carbon footprint a more economical system can be installed.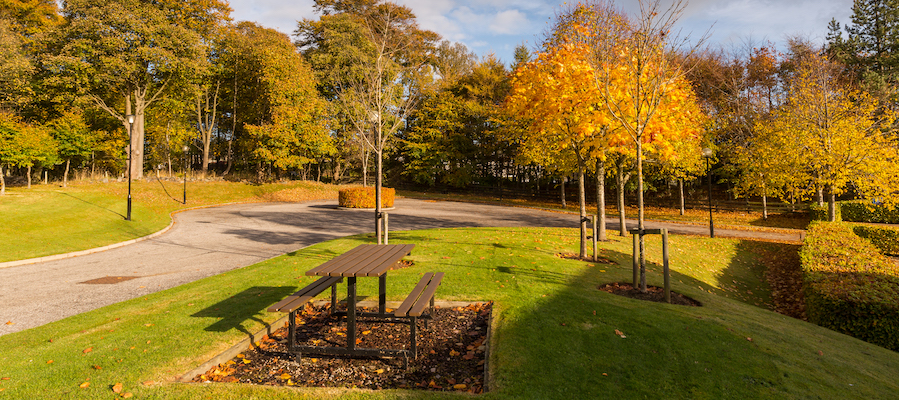 Environmental Impact
Our responsibility to reduce our contribution to climate change cannot be ignored. An employer has a legal requirement to ensure their employees are working in comfortable conditions. It is equally as important that these are achieved in a way that results in as small a carbon footprint as possible. Lower energy heating and lighting systems are the way forward and Aberdeen Energy and Innovation Parks embrace this in their buildings. Recycling best practice, electric car charging points and facilities to encourage cycling to work ensure their office spaces are as green as possible.
Team Flexibility
Recent times have shown how important it is for business to be agile to the economic environment and changing markets. Your team can expand or contract if your office space is fully adaptable to your needs. The flexible contracts of the serviced office and Co-Lab coworking options at Aberdeen and Energy and Innovation Parks are perfect for this: furniture can be drafted in to accommodate new members of your team or visiting associates. A fully movable furniture suite allows for the ultimate in office adaptability. If it can be moved to be fully inclusive of all heights and abilities, you can be sure that a welcoming environment is there for all.
Latest Technology
As we are looking towards a more blended approach to working, technology needs to be adaptable enough to move smoothly from home to office. Solutions for charging are a basic but more complex ideas, such as desk booking apps, are an efficient way of workers securing their favourite spots in a co-working environment.
We are finally embracing paper-free zones, just as wireless offices become the latest goal. However, some pieces of equipment will always require a direct power source. Cleverly hiding wires in panels, or even pieces of furniture themselves, can remove them from our line of sight and prevent potential trip hazards.
Budget
However dull it might be to think about the financial constraints to refurbishing your office space, it is necessary to keep stakeholders happy. It is a daunting job to work out the money- side of a project but start by breaking it down into small pots for each section of the project. Calculate separate amounts and look at the running total. Then it may be necessary to forgo some of your plans to allow others to come to fruition.
Alternatively, an external contractor can draw up plans according to the total you can feasibly spend. Aberdeen Energy and Innovation Parks are experienced in taking on refurbishment projects for clients which then removes the bulk of the work from your shoulders. This leaves you to concentrate on business and propelling your company into the future.